10 Reasons to switch to SuperTuffMenus®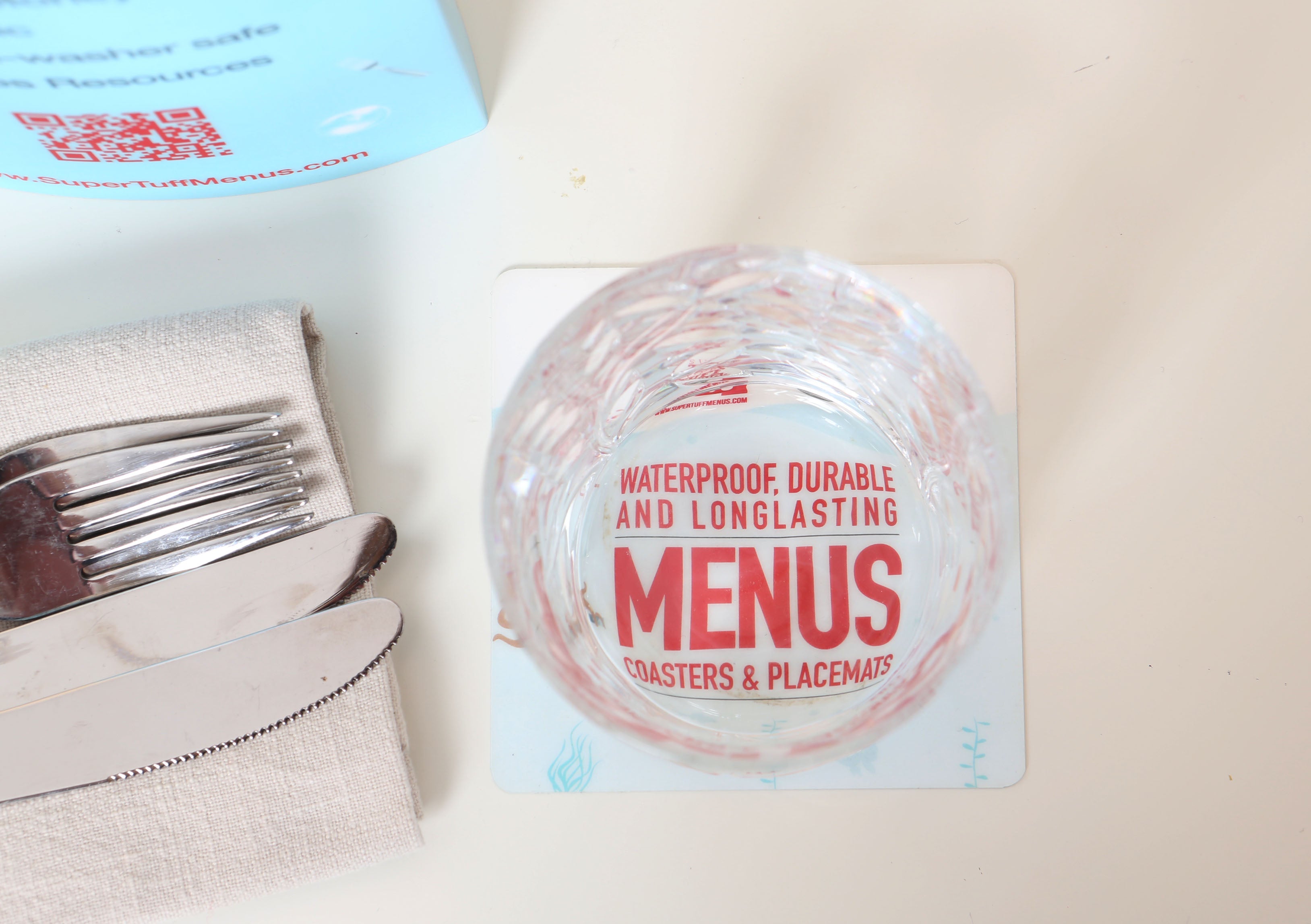 You've perhaps considered laminated menus, but have you considered the full upgrade? We're here to convince you that you'll get more bang from your buck with our innovative solution.
What are Super Tuff Menus?
High quality menus that are so durable you can wash them every day in hot, soapy water and they will look great for months, even a year!  
Once you touch them, you'll understand!
SuperTuffMenus® don't fray or peel like their laminated counterparts and are completely waterproof. You can wipe them, wash them and even pop them through your glasswasher ensuring that each customer is given a clean, fresh menu, every day.
The special matt effect coating makes them feel luxurious and will show your brand at its best every day of the year!

So now that we've introduced them, let's discuss some of the benefits!
1. Washable & Hygienic
Use hot soapy water or sanitizer to clean, these menus can also be put through your glasswasher!
2. Durable
Our menus don't fray or split and are designed to last.
3. Economical
Long-lasting menus will save resources and save money over the year.
By switching to SuperTuffMenus® one of our first clients, a restaurant owner, had a 70% reduction in the cost of their menus in a year!
4. Stylish
There is absolutely no compromise on style. Gold foiling and bespoke shapes are available as well as a Premium Lite option for a softer, luxury feel.
5. Multi-Functional
SuperTuff® is not limited to Menus, you could have Coasters, Posters, Bar Mats, Stickers and more!
Talk to us about your ideas and we'll help you make it happen.
6. Innovative
Invented by our friendly owner, SuperTuff® is unique and currently doing the groundwork to establish the brand and help restaurants worldwide. By joining the many happy new owners, you have a new talking point for your marketing, and can share the excitement of being part of a practical and innovative solution to avoid wastage and damage!
7. Bespoke
Available in low quantities from A3, Tabloid and Ledger to a Coaster size!
We can cut our material into ovals, circles, self-supporting table talkers and even your own bespoke shapes. 
8. Proven
Our testimonials give us the nod that our product goes the distance. One restaurant owner commented:

"SuperTuff menus - it's a simple name and it does what it says on the box. They're super tough, they don't rip.. I've had these over a year now and they're more or less the same as when I got them."
- Dominic Crolla, Oro Restaurant, Glasgow.
9. Samples available
We know that seeing is believing, and are convinced that our solution can do wonders for the hospitality industry. We're more than happy to send out a sample of our material so that you can give it a wash, feel the quality, see the result and be comfortable knowing that our product is worth backing!
10. Exclusivity 
We are the only manufacturer of this material, and it was born from our sister printing brands. Our print shop is the only place that makes this material, and our many many many combined years of print & design expertise gives us high confidence in delivering quality time and time again. As other printers don't offer this solution, if you buy from us, you'll get the best with this unique product - and stand out from competitors!
If you're looking for other printing solutions, or just curious as to our sister brands, head across to our
Glasgow Print & Design Centre
website, visit our
Glasgow Poster Printing
online store or check out our
Love & Humphries
brand for clever little printing.