Menu Engineering - Categorise your menu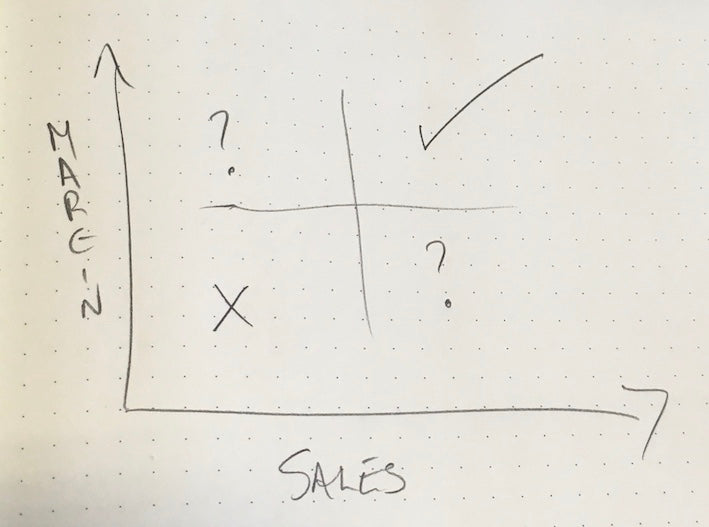 Part 2/4 in our Menu Engineering crash course: Categorising your menu.
After costing your menu items, there's a further analytical step before storming ahead with the design. It is important to understand which items on your menu will boost profits most, and also what items will attract the most attention from customers (if the same items do both then you're on to a winner!).
Firstly, split your menu into categories.
This is straight-forward: Starters, Mains, Desserts, Drinks, etc.
You can tweak the categories to best fit your offerings.
Secondly, create sections for your menu items to exist within these categories.
examples of sections might include Mains such as Pizzas, Pasta, Meat, Seafood. Perhaps you'll want to split your drinks by Alcoholic and non-alcoholic.
Next, each item should be ranked from 1 to 4.
Be sure to use recent data, perhaps the past four weeks of sales.
1. High profitability, high popularity [Star]
2. Low Profitability, high popularity [Cash-cow]
3. High profitability, low popularity [Puzzle]
4. Low profitability, low popularity [Dog-house]
Now you can gauge how to deal with your menu items.
Start by using your data to organise the categories. For example, if you're best (1) items are predominately in the pizza section, you'll want to prioritise the mains when designing the menu. You can then organise the category, by deciding how best to place and promote menu items in each section.
1.  Star items, your menu should highlight these to maximise profitability and popularity.
2. Cash-cow, the steady eddies. There may be tweaks to these popular items to make them more profitable.
Does that popular burger need to be served with chips as standard, or could that be an add on purchase? Would the customers pay more if you 'pimped' up the recipe ever so slightly?
3. Puzzle, extra promotion and upselling could get these items over the line.
Perhaps they just need a slight tweak. You may choose to lower the price to increase volume or find an ingredient or promotional changes to boost popularity.
4. Dog-house, time to 86 these? Consider removing these items from the menu. When not possible, perhaps as the item is the only offering for a certain dietary requirement, deemphasizing the item is a good tactic. This may be to simply state the item name with a price, rather than supporting it with any description or promotion.
"Menu Engineering...what is it?
Menu Engineering is a systematic approach to building powerful menus that positively impact guests' experience and drives their desire to return.
Your menu is your most valuable marketing tool and fortunately, a menu update is often the least-expensive improvement a restaurant can make! It also tends to produce the greatest and quickest returns on investment.
Gregg Rapp, Menu Engineer has refined the menu engineering process, over his thirty-six years working with restaurant teams around the world on menus."
- www.menuengineers.com