Merry April, our festive hat is on!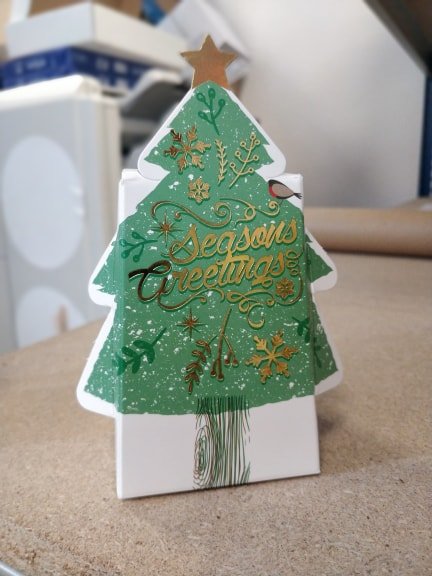 Dropping the festive 'C' bomb this early can have even the most organised planners flustered.
Christmas music playing in November can raise eyebrows, and decorations appearing in the shops before Halloween sends many a scrooge absolutely loopy. However, when it comes to your marketing, how early do you get prepared for the holiday period?
It may be April, but we're delighted to have finished our first Christmas print job for 2019 (Via our sister brand: Love & Humphries). The National Piping Centre have set an impressive precedent by efficiently getting their Christmas and New Year menus ready to go whilst competitors are still shaking off their Easter weekend hangovers.
This year, how will your business get ahead? We rounded up some ideas to help your Christmas Menus stand out and gain bookings to boost the festive earnings.
·        Waterproof table talkers
With time on your side, advertise your menu throughout the year without worries of the menu becoming tired, stained, tatty or frayed. Using SuperTuffMenus ensures a long-lasting quality product that is easily washable and highly durable.
·        Christmas Cards
Simple and classic, yet powerful. Customers can't resist picking up a well-designed Christmas card, so why not place your menu inside an a5 fold. Stand out with more exciting shapes and designs like the pop-out Christmas tree card from the clever little printing company, Love & Humphries.
·        Bill holders
We're all hoping our customers remember to pay for things, but why not give an extra reminder to them alongside their bill. Imagine opening a seemingly innocuous bill to find your receipt sandwiched between sparkling Christmas advertisements – catch the customers off guard and get them thinking ahead about their bookings.
·        2 sided placemats
Another way to reduce costs and raise efficiency with your menus is to style your design as an a3 placemat. Have the customers greeted with your Supertuff, waterproof menus, with the festive menus cleverly awaiting them on the flip side. They'll almost certainly read through your offerings as they wait for their orders, plus after the meal it's a simple clean before the menu is reused. No need to buy thousands of throwaway menus, when our solutions can last the test of time.
·        Coasters
There's a need for coasters all year round, so why not turn a necessity into a practicality. We've used our SuperTuff material to create a variety of reusable, durable coasters that don't fray or go soggy. Smart!
Have we got your mind unwrapping like a premature present? Has Santa arrived early for your marketing campaigns? Get in touch with us for a free sample of our SuperTuffMenus or to chat about various printing solutions we can offer to help you soar ahead and wrap up your yearly planning!
SuperTuffMenus
1 Kelburn Business Park
PORT GLASGOW, Scotland, PA14 6TD
Email: info@SuperTuffMenus.com
Phone: +44 141 243 2084