What is the best paper for restaurant menus?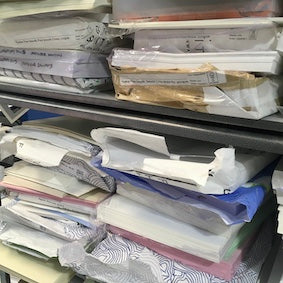 I believe that depends on what type of service, ambience or style of restaurant you are operating. 
A few simple ideas might be; Fast service, light, inexpensive paper; Longer service, a heavier, textured and probably more expensive paper, or even a card.
The longer your customer spends with you, I would consider spending a bit more on your menu paper.
A high-end, white table-cloth type restaurant would expect to use expensive tactile paper. Something heavy that feels substantial.
A glossy thin paper menu is probably not going to be appropriate in a smart, high-end restaurant.
Best not use expensive paper in a fast food or quick-service restaurant; it's wasted. 
So what are the options? 
Are you going to throw away your menu after every use? The disposable option ~ in which case do you want simple light paper. 
If you've got lots of colour in your menu or use photographs, then the glossy paper might be best as this emphasises the colour and improves the pictures. 
If lots of colour and photographs are not your style and you use a simple text type menu, then perhaps an uncoated paper might be more appropriate—anything between 80 and 130gsm or, if you prefer, 22lb to 36lb bond. 
If you're going to print the menu yourself on your desktop printer in your own office, then perhaps just a simple 80 or 100gsm (22lb - 26lb? bond)paper might be the best idea. Still, that cost will add up, and unless you're changing your menu every day, I would strongly suggest finding a printer to make them for you. Trust me, ink for desktop printers is more expensive than rocket fuel. 
Suppose you don't want to use a disposable menu because you don't like throwing them out all the time. It would be best if you found something that you can wipe down and keep clean. As you can imagine on a website belonging SuperTuffMenus, this is our thing.
The SuperTuffMenu is the menu you can wash. It's a bit different. It has a matt quality texture; it's pretty rigid, very durable, has no clear plastic borders and is guaranteed not to go soggy or peel at the corners.
However, before SuperTuffMenus, many restaurants tended to print menus on a card about 350gsm or 130lb Cover, then they have it laminated. At first glance, this is pretty good; however, they do get dogeared, and if you get them wet, the paper goes soggy because there's nothing to protect the edge of the menu from absorbing water or whatever liquid there is lying about
You can ask your printer to encapsulate your menu (some folk do it themselves); that's when they get one of those pouches with a clear border and seals the paper or card inside it. The reality is you could put any type of paper you want inside that you wouldn't know what it was to start with. Looks excellent, to begin with, but after some heavy use, it eventually separates at the edges and gets pretty nasty and unpleasant. 
SuperTuffMenus® don't do that; they won't absorb water, and they won't peel, and they don't have that nasty border; they're not glossy. SuperTuffMenus have a matt finish and feel alright, and of course, you can keep them clean, even COVID clean.
Now I get it SuperTuffMenus® are not for everybody. If you're in a high-end restaurant, it's probably not for you. You maybe change your menu regularly, or it may just not be that the look and feel that you want in which case you need to think about how you're going to do your menu at a higher, perhaps more flashy level you have to have lots of spares you have to buy a lot. You have to be prepared to throw them out because they will get dirty no matter how well you look after them. You're using them in an environment with food and drink, and they're going to get grubby, and they're going to get sticky, so you have to be prepared to throw them out and sometimes.  
Getting your staff to throw them out it's hard; they might think they're doing you a favour, or they might be reluctant to throw them out because I don't have confidence that you're going to get replacements soon enough.
There are some gorgeous papers out there, some even explicitly designed to help with the problem of wiping clean. Surprise, surprise, beautiful papers do cost a bit more, and if you're buying lots and lots of them, it's going to add up. Having said that and this is something I think it's so important it's worth spending money on your menu. Can you imagine doing business without a menu? I've certainly spoken to many people over the years in that situation where they have no menu to open with, and they're desperate they have to have a menu; otherwise, they can't do business.
So that menu is going through every single one of your customers' hands. You wouldn't give them a dirty glass, a grubby plate or greasy cutlery, would you? So why would you even think you could get away with giving them a messy, worn, sticky, greasy menu?  
It's almost as bad as letting the chef wander around the dining room in whites are covered in blood or letting one of your waiting staff come to work with dirty fingernails. It's just not cool.
So spend money on your menu before you spend money on many other things because your menu is working for you every day; it sells for you; it sells your food; it is selling your drinks.
It is SO important to spend money on and put effort into your menu.
Better to compromise your crockery and not get such expensive plates and glasses than to cut corners on your menu.   
Think about it this way; you can borrow plates and glassware and get away with it; you can't borrow someone else's menu, can you? Can you?
So now what? What would I do if I was searching for paper for my restaurant menu?
Stylish but casual? Yes.
Do menus stay the same for as long as possible? Yes. Check out SuperTuffMenus
No - we change our menu every month (see my argument about changing the menu here).
OK, find a local printer you like. Find a designer you like.
Concerning the paper, I would suggest an uncoated light stock. Agree on a monthly volume and ask for a retrospective discount (the more you come back, the less you pay).
Get a proof every time, and always make sure your grandparents can read it (more about menu design here). We all have bad eyes. Your grandparents are just more willing to admit it.

OK, a white table cloth operation? You want customers to linger and study the menu. Best go for something that feels right in the hands. Again find a designer and find a printer that you like and can work with. Get the printer to give you some sample papers; your designer should help but remind them that you are the one paying the bill! Again agree on a volume and a plan of changing the menu and negotiate a good deal. A good deal works for both of you. If the numbers are a bit scary, don't be tempted to laminate to make them last longer. I don't think it's worth it. Go SuperTuffMenu. Buy fewer SuperTuffMenus and wash them. Trust me, they work.